^
I`m loving her, more and more. LOL. She was my favorite heroine back then, and now me is sooo sad she left Heroine ㅜ.ㅜ I love that variety show Heroine 6, &
also coz guest stars there includes some of SuJu, DBSK, Lee Seung Gi, Son Ho Young, some of SS501 and many other hot singers/celebs..
. and my favorite game there is Catch the mouse.. LOL~~!
Man Seh
!! and also the karaoke game :D And even tho I watch Heroine6,
raw
meaning no subs~ but it still is fun, haahaa, weird I know~ heehee. But now she left Heroine6 already, *siiigh. I guess no need for me to watch it.. well there`s still the cutesy hight-pitched Hyun Young and Hye Ryun that`s funny But I miss Hye Young there..! Wahhh~ *sad* Really. What's the use of watching H6 without her... hmmm.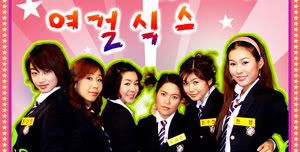 Anyway, I`m thinking of re watching
PaPa
as soon as I got time coz Hye Young is there, she played as Hae Won, a physician and back then I wasn't that fond of her like I do now, heehee. Her role there was just a small role, supporting role, but then she still did good, and she was cheery and always happy and all in PaPa, and she was also in
First Love
[
starring Bae Yong Joon& Choi Ji Woo
] and in
Save the Last Dance for Me
[as Kang Hyung Jung], but it was in Dal Ja`s Spring that made me love her sooo much. Heehee. In DJS she`s kinda mean and all but then deep inside she`s a softie.. awww. I just wuv her~~! and in Heroine6 I like her and all but now she`s beginning to be one of them actresses I love most...! Heehee~ She also has a brand of clothing of her own called
Missing Dorothy
which I must say has really pretty dresses and lovely designs~! wahh, she`s a fashionista btw, haha..! I want the Junior M.D styles, coz it`s casual and it`s pretty cool~ wahh. I think she`s a versatile actress too! Her portrayal of Seon Ju in DJS is soooo convincing to me~ and her trademark move is flipping her hair on one side, which I think is cuute at the same time seductive.. haahaa. There`s something about her 'acting' in the drama Dal Ja`s Spring that really earned my respect for her as an actress :D && That scene in episode8 in Dal Ja`s Spring in which she confessed about her "divorce" thoughts to Dal Ja [Chae Rim] ripped my heart~! and I wonder if she was really the real Hye Young and not the Seon Ju speaking, coz in real life she was divorced too after just a year [or less?] of marriage with Lee Sang Min, but they were together for 9 years~~ oh well.. I want her to be happy in real life and more success to her career [meaning more dramas eonnie!! haahaa] 혜영씨 언니~ 화이팅! LOL!!